Ok, I did my "what's hot" post, so now I have to discuss what's "not hot" in equipment financing.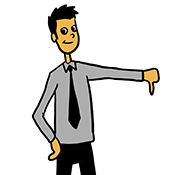 Part of me would rather not do this, because it feels like a downer. Pointing out what businesses are not financing new or used equipment feels like it's picking on them. But then I rationalize it's more or less the natural order of things – new technologies become available, springing up new businesses, and that sometimes leaves certain industries stagnant.

The good news is, many of these stagnant industries will adapt to new realities, and perhaps utilize strengths they never thought they had. And others will cease to exist as their owners move on.

Let me start this off with some good news that emphasizes the "new realities" statement. For a few years in doing these posts, "brick and mortar retailing" made my "not hot" list. And looking through the 2010-2017 or so lens, it was easy to see why – online retailers were kicking the stuffing out of their brick and mortar cousins. And indeed, many retailers could not adapt, and went away.

But then something happened. Some retailers started to use their physical presence in interesting ways. Like the explosion of "buy it online and pick it up at the store". This offered consumers the ease of "add to cart" buying online, and the convenience of not waiting for delivery – they could place an order online during their lunch hour, and pick it up on the way home from work.

So while the industry is still in flux and nowhere near what it was, brick and mortar retail has dropped off the "not" list. That's always welcome news.

The two industries that are still on the list, however, are Printing and Telecom. Both continue to be affected by newer technologies that make their traditional offerings less appealing. When you can design your business card and other marketing collateral yourself online, and have them delivered in a few days, it makes going to the printer less appealing. And with many newer companies having a more spread-out, virtual workforce, it's easy to see why traditional telecom is not as popular as it was.

That all stated, I have high hopes. For the printers and telecoms (etc.) that are still around, they are likely doing everything they can to innovate and move forward. And that's a great thing.