Ok, last time I discussed businesses who sell equipment offering financing, and some of the assumptions companies have that keep them from doing such. My goal here is to show how inaccurate these assumptions are, and hopefully spark some interest to partake in this most excellent business activity.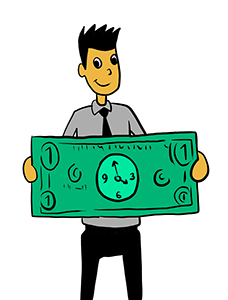 Last time, I reiterated that there's no risk at all to equipment sellers, and also stated that yes, your customers definitely want financing. Let's continue with the (inaccurate) beliefs companies have about offering financing, and shine a bit of light on the truth.

"It's Too Much Work"

Not even a little bit true. Here's how much work it is: "Hey Customer… you want monthly payments? Here, use these folks."

Seriously, that's how much work it amounts to. For my company, we even have online tools that our vendor partners can install in two minutes (it's cut and paste), we have artwork, etc. Ok, It may take an afternoon to put "financing available" on your collateral. But that's it.

Best of all, once that happens, it's literally "set and forget". You don't get involved in the actual financing transaction. You simply sell your goods and get paid. Like always.
"It's Not Worth the Trouble Because It Won't Help Sales"

This is the biggest misconception. Remember last post when I said 80% of all equipment purchases are financed? Think about that. Think about when your customer comes to your website or reads your brochure, looks over your goods, and sees things like "monthly payments available" or (even better) "as little as $XYZ a month".

I shouldn't have to tell you that that's an incredibly powerful deal closer. If you don't believe me, ask your best salesperson. He or she likely gets the "do you offer financing?" question a lot. Offering payments not only makes it super easy to buy from you, it completely takes the "affordability" rebuttal off the table.

Listen, your customers are going to finance equipment anyway. Many of them don't want to go to the bank, because the bank has tons of restrictions. Save them the trip and offer them better financing right at the point of sale. There's no risk to you or extra work on your end, and trust me, sales will go up – I've seen it happen time and time again.

2020 is off to a great start. Let's make it even better by getting YOU on the equipment financing bandwagon.