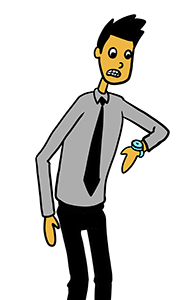 Ok, I'm not an alarmist, and I don't really think time is running out. But I was looking at the calendar the other day and I realized "Whoa, the year is almost half over!! Wasn't it seemingly yesterday that I just wished everyone a Happy New Year?" And it's true – in my own mind, it was yesterday. This revelation made me think about time, how we perceive it, and (of course) Section 179… I'll explain that part in a second. But back to time.
The perception that time moves fast is just a simple question of ratios. See, when you're a little kid (say perhaps 10 years old); a year is ten percent of your entire LIFE. And if you think about it, it's really twenty percent of what you actually remember (assuming real memories start at five.) That's why your two month summer vacation lasts FOREVER (and ever). And if you have something cool planned in two weeks… well, those two weeks are a HUGE block of time, because you just haven't experienced all that many weeks yet. My 6 year old self waited YEARS for Christmas to come. So it seemed, anyway.
But now I'm all grown up. I've been through (ahem) 30 (ok, 40) – something years. So a week (or a month) is no big thing. Mere minutes, if you will. If you aren't paying attention, it'll be December before you know it (to which a 6 year old Fletch would be very grateful).
So I'm writing these thoughts in this post because it's not only interesting to me, it's also a nice segue to tell you to that Section 179 needs to be at least thought about right now. No, time hasn't run out yet – we still have months, which, if you follow what I said above, is a few days at best. So if you've been thinking about financing (or leasing) equipment, now is the time to at least start making plans. Get something down on paper, make some phone calls, have a meeting. And take advantage of Section 179 for 2011.
Before time runs out! (groan…)