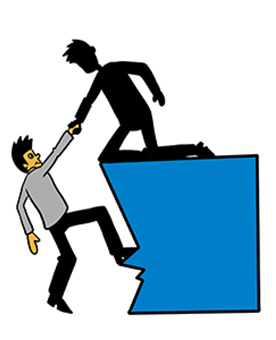 Continuing our journey into the different types of vendor/lender equipment financing relationships, let's take a look at the first one I mentioned earlier:  Referral Programs.
A simple Referral Program is easily the most popular equipment financing relationship between a vendor (aka, the manufacturer / distributor / etc) and the equipment financing company (that would be me). Here's how it works:
A vendor has an item to sell, and it's not "pack of gum" cheap. Indeed, it's an item that usually needs financing. It might be a piece of manufacturing equipment, office machines, furniture, specialized vehicles… almost any type of tangible equipment.
Now, being that almost every customer will finance the vendor's product(s) – whether to spread payments out, take advantage of Section 179, or the like – it would definitely be a benefit to the vendor if they could help in that aspect, at least to a small degree. After all, if the vendor can point their customers to easy equipment financing, it could result in an immediate sale. It also heads off the "well, let me get my financing in order, and I'll get back to you" rebuttal that every salesperson hates to hear.
So the vendor finds an equipment financing company (me!) to work with. But since this dance is just starting out, the vendor wants to keep things simple: essentially, their goal is to offer their customers a solid equipment financing company they will feel comfortable with. They want to say "equipment financing provided by Fletch" on their website, their literature, and the like (well, not really me personally – Mrs. Fletch would not like that – but you get the idea). Doing such helps with their marketing, helps with closing rates, etc.
The terms of said arrangements are usually pretty simple – it's typically a basic "the vendor provides the equipment financing company with referral business, and in return, offering reliable equipment financing helps the vendor close deals". Are there ever referral fees / commissions and the like? Sometimes – it depends on the parties involved, etc. I'm sure if you are a Fortune 100 company, almost any equipment financing company would LOVE to work with you. But it's usually a pretty standard "by partnering, we help each other" deal.
However, as we'll see in future posts, the vendor/lender relationship can grow well beyond a simple referral setup, with all kinds of deals possible.