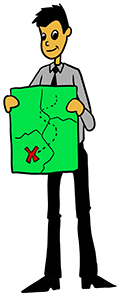 I've been talking recently about how companies tend to wait until some arbitrary date / time period to purchase / finance new equipment. The reasons are varied – from "use it or lose it" budgets to putting expenses on last month's / last quarter's report to making a grouchy accountant less grouchy, and so on.
One thing is clear – waiting is very common. I said this already, but I see it in my business month after month, quarter after quarter, year after year.
But one thing I actually question is "is it always good to wait?" I don't pretend to know every company's financials and such, but one thing I DO know as an equipment financing / equipment leasing specialist is the fact that buying new equipment (or even "new to you" used equipment) is almost NEVER seen as a bad thing by anyone.
Let's face it – your employees like new equipment. New computers, new office furniture, new office machines… these all make employees feel better about their jobs and the company. Yes, the accountant will say "expense", but is it really? How important is morale to production? Trust Fletch here – decades-old office furniture and computers built in 2003 cost you money.
New equipment also makes employee's jobs easier, especially if the equipment is directly tied to production. That's a no-brainer, but it's worth mentioning.
New equipment also can mean new products or services offered. Again, another no-brainer, but offering new products or services can really help the bottom line.
Expanding on the preceding, new equipment can also put you ahead of your competitors. A print shop buying the latest in laser printing technology jumps to the head of the line in offering fast, cutting-edge print products.
Your customers like it when you stay current. And it's not just machinery – even something as simple as an old sofa in your reception area can have negative effects.
There is almost no downside to buying new equipment. And your accountant will even be happier if this equipment is financed / a favorable equipment lease is written (and use Section 179, of course).
So basically my message (after three posts about this) is this: If you need equipment, and feel the need to wait for an arbitrary date, weigh both the upsides and downsides to waiting. I'll bet after all is looked at, "buying now" makes as much sense as anything.