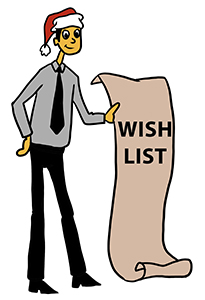 The holidays are here, and here's my wish list for 2012:
I wish for a better 2013 in terms of the economy. Listen, I know things have been rough, and I know some people think we're slowly recovering, but the fact is, for many companies, business is fairly stagnant. I really would like to see a better 2013 in an overall sense.
Section 179 getting a boost in 2013 would be really nice. Right now, it's sitting at $125,000 as the maximum amount you can deduct, and that's going to fall to $25,000 in 2013 (so again, take note and buy now if you want to take advantage of it). I really hope our leaders see that $25,000 just isn't going to cut it and give Section 179 a nice bump up in 2013. They've done it before.
"Hey, your insightful Facebook post has made me change my political position" said no one ever. So I want politics to "stop". I don't mean just them – I mean "us". I'm tired of every conversation (online and off) getting political, and everything becoming "left or right". Wishful thinking, I know, but hey, it's my wish list. If you notice, I lead by example here – I am decidedly un-political in this blog, and am more interested in financial / business issues than any particular party.
I want the new Halo game. I'd buy it myself, but Mrs. Fletch puts the kibosh on buying this time of year. Hopefully Santa (or Mrs. Fletch – same thing) is listening.
I want technology to keep moving forward. I'm excited about how things have progressed over the last few years, and I'm impressed with smartphones and their capabilities. I'd like to see things move further (an equipment financing / equipment leasing app? Be still, my beating heart!)
Section 179 again – I wish everyone who reads this and is thinking about Section 179 to just go ahead and use it for 2012. Because despite my earlier wish, a boost for next year is not a given.
Hope you folks are enjoying the holiday season so far. It's a great time of year.