Happy New Year everyone. Here we are in 2022, all trying to get back to some sense of "normal". But after the last two years, what exactly is normal anymore?
Here's one thing that's "normal" – Fletch's annual predictions. So let's get to it, starting with the important stuff: sports.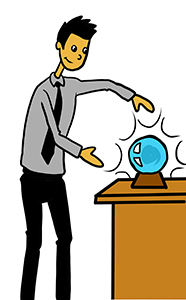 Sigh… there was a time when I predicted Super Bowls and other Championships with a clairvoyant's accuracy. So maybe getting back to normal means I get a winner or two in 2022.
Football: The Tennessee Titans finally get their championship after falling a yard short the last time they were in the big game. At this writing, Derrick Henry seems poised to return, so watching him run over everyone will be fun.
Basketball: Do we go against Steph Curry? We do not. Golden State for the title.
Hockey: Easily the hardest sport to predict these days, as there are truly no dominant teams. Oddly enough, many of the top teams are in the south. Tampa Bay Lightning is being whispered in my ear, so let's go there.
Baseball: I picked the Mets last year, and that was a disaster. But I'm going to do it again. Some new players, a new "Old School" manager who is due for a title… Amazin'! (note: I am happy the hometown Braves won it last year, but I'm not picking them because nobody repeats anymore).
Now let's talk about business and the economy. 2021 was the year of supply chain issues and inflation, and it affected everyone. Some businesses adapted better than others, and there was a touch of random luck thrown in too – for example, if you had two identical businesses, but one was able to get a crucial shipment of parts because they ordered one day earlier… well, that could be the key difference in success or failure.
I feel like supply chain issues will ease up as the year moves on, for two reasons: the "Covid is here to stay and we have to live with it" mindset taking hold more, and an adjustment in end user expectations. In other words, we now know that computer (et al) is going to take longer, and that knowledge will factor into our operations. Hence, we won't be caught by surprise anymore.
Inflation will be a thing, and rates will rise periodically to combat it. I don't see any way out of that in the near future. It may sound self-serving, but if you were thinking of financing equipment, all else being equal, you're probably going to see a lower equipment financing monthly payment earlier in the year as opposed to later. 
Additionally, if you aren't already, offering equipment financing for your customers is a very smart move that costs you exactly zero. 
More money news: Section 179 is exciting this year – it got a nice $30k bump, all the way up to $1,080,000. Definitely use it, as there's no better business tax deduction for small and mid-sized companies.
I was bullish on 3D printing a few years ago, and while Covid has put the brakes on a lot of technology, I still feel this is going to be a huge aspect of our lives sooner rather than later. Within the next decade, I can see every company having a 3D printer onsite, as well as every household.
Same with Virtual Reality (VR). I actually watched a concert virtually, and it was pretty neat. Once we get to the point where VR is a comfy pair of glasses instead of a big headset, the sky is the limit.
All in all, this will be a leveling-off year with upside. The last two years have been tumultuous, but we've likely seen the worst of it, and as a society, we're still here. It's time to work with what we have to get where we want to go.
For most industries, 2022 is going to be a better year. So says Fletch!