Every spring, I do a "hot and not in equipment financing" series of posts. And since I've always done it, I will do it in 2020 as well.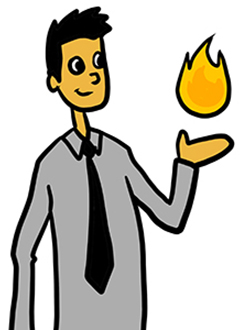 That said, it does feel strange doing this in the middle of the COVID-19 crisis. So it's with an addendum: I'll talk about a few industries that are doing well right now, because good news is… well… it's good! And welcome.
But I will not be doing a "not hot" post. Because not only would it be influenced by this crisis (kind of hard for retail to get off the "not" list when most of them are closed), it simply seems out of place right now.
Let's take a look at a few industries that are still buzzing:
Construction – Work generally continued at buildings under construction at the start of the crisis. Also, many companies took advantage of empty offices and are having improvements done.
Landscaping – This is an outdoor industry where people can stay spaced apart, so it's no surprise that things continue. Plus, it's spring, and the grass and weeds do not take time off.
Paving – We're seeing the paving industry jump. Many municipalities have taken advantage of emptier roads to get paving projects done, and again, many businesses see this as the perfect time to get the parking lot redone.
Computer Hardware / Software – More "work from home" means more hardware and software is needed. Some companies even quickly ordered dozens of laptops/workstations for their workforce in one fell swoop. And IT service companies are busy keeping it all working.
Auto Repair – This would seem odd, because not as many cars are on the road right now. But this is also a great opportunity to get a repair done that was being put off. Plus, many folks are keeping older cars instead of trading them in.
Packaging – Online shopping has increased, so it's natural that the need for packaging has increased right along with it. This also includes corrugated box printing.
Pretty solid list there. And there are certain parts of other industries are doing well also. For example, while agriculture is down in some places (crops), it has seen increased demand for dairy, eggs, and meat. All most people need to do is look in their own freezers to see why.
Here's another interesting tidbit – there are some industries that quickly pivoted and bucked the downward trend. For example, many dry cleaners are completely closed or are seeing revenue down by as much as 75%. However, we recently financed high-capacity equipment for a dry cleaner located next to a hospital. They needed this equipment to keep up with demand for hospital and police department contracts. In fact, this demand increased so much they had to go to multiple shifts. There are good stories if you look for them.
So there's my equipment financing hot or not for 2020. It's a little different than usual, but I feel good after writing it, because it always pleases me to see any industry grow.