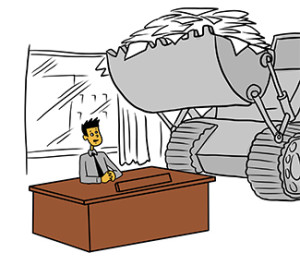 Let's discuss financing used equipment today. Because it's a topic that doesn't get nearly as much press as it should.
Do you know why it doesn't get all that much press? Because there aren't a whole lot of lenders that embrace used equipment financing. And since I work for one of the few who do, I'm almost puzzled as to why (note: long time readers know I never really plug "my" company in this blog, but based on my URL, it's not hard to figure out where I work. But to be honest, I'm proud to work for one of the few equipment financing companies that do this, so I don't mind mentioning it.)
But really, what's the deal with this? Used equipment financing shouldn't be hard to find. So why is it? Is it because used equipment is… well… used? I don't understand that reasoning. Sure, there are plenty of "held together with duct tape" machines out there, and yes, nobody (not even my company) will want to finance those. But in this day and age, that's almost the exception – there are countless pieces of used equipment out there that have years and years of life left. Many machines, vehicles, and other pieces of equipment are made exceptionally well these days.
And that's leaving out equipment that doesn't have moving parts. Do you know how long a desk can last? A loooong time. In fact, the desk I'm sitting at now will almost certainly outlast me (note to my boss and Mrs. Fletch: don't get any funny ideas!) But things like desks, conference tables, cubicles, shelving… all of those things have a robust secondhand commercial market. And a robust used equipment financing company helps quite a bit.
One last note: Section 179 is fine with most used equipment. So not only can you get used equipment leasing / financing, you can also most likely take a deduction on it.
Ok, I'm getting nervous. Time for a new desk.