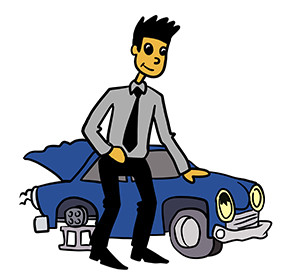 My last post on used equipment financing spurred a recent memory.
Mrs. Fletch and I were shopping for a vehicle awhile back, and we were undecided on whether we should buy a new or a used car. There were plusses and minuses to each, so we decided to look at both. We went to the local dealership, test drove a new vehicle or two, and then asked the salesperson "can we see some late model used cars?"
Much to my surprised, our salesperson committed the ultimate salesperson sin. He said "no". However, before I could pick my jaw up from the floor, he followed it up with "we don't have USED cars – we have PREOWNED cars". Which he then proceeded to show us (funny – they looked just like used cars to me).
It got me to thinking how the term "used" has changed over the years. I realized that I never seem to hear about anything "used" advertised anymore. It's always "preowned" or some such thing. And in the event something IS called "used", it's preceded by the word "gently". I wonder how they know that? What if it was owned by a family with a 20 year old? As a former 20-year old male, I can assure you that we are not gentle on vehicles.
Regardless, I find it interesting. And it gives lenders a quandary over what to say – should we say we offer used equipment financing? Or preowned equipment financing? How about gently used equipment leasing? They are all valid. Or maybe we should say we finance private party equipment sales (private party sales being a common business term.)
There's no real lesson here except that the changing nature of the names is interesting to me. And yes, I do learn. The next dealership we went to I asked for the preowned cars, only to be told "we don't have those – we only have CERTIFIED PREOWNED AUTOMOBILES."
Some things never change.