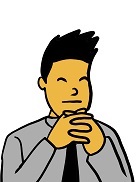 I had a post ready about something equipment financing related, but it doesn't seem appropriate today. I'll post it sometime in the future, but for now, a few words on what's going on, and what I feel will be the outcome.

First, I have to address the obvious – for some businesses, the COVID-19 crisis will change an awful lot. A restaurant that was already on the ropes may not survive a month or two of "takeout only". And for some newer businesses that don't have their feet under them yet, this is super challenging and could derail them.

But whether you're seeing a slowdown or not, remember this: there are millions of businesses that survived other large bumps in the road. 9-11. The Great Recession. Etc. And again, I realize the COVID-19 crisis is neither of those, but the fact remains that on the other side of this, companies will emerge, and many of them will be stronger than ever.

Right now, some companies are using this time to re-tool. Smart, seasoned businesspeople know this will pass, and it will have to pass quickly as well. A month or two may seem like forever if your kids are home from school and you're reading the news on an hour to hour basis, but again, smart, seasoned businesspeople know a month or two is an eyeblink.

When we go back to normal (and I admit it will be a bit of a "new normal" for a while), how will you emerge? Will you be ready to hit the ground running? Your competition may have holed up and watched Netflix – what did you do? Did you repair, retool, rebrand, replace, reassess, etc.? (boy that's a lot of "R" words. Unintentional on my part!)

It's a certainty that we are all going through something unprecedented. But it's also a certainty that it will end, and commerce will resume (probably in force from pent up cabin fever!) What is your plan for then? Do you have one? I hope you do, because if you're slow or at home, THAT'S how you should be spending this time. Netflix will still be there tonight.