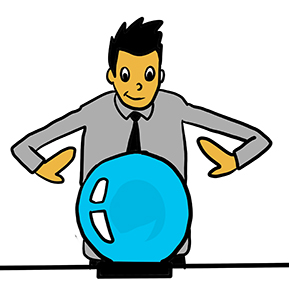 Ok, we're a few weeks into 2015, which means it's time for Fletch Predicts!!
I've been doing this for a few years now, and have had an uncanny ability to get extremely lucky with some really "out there" predictions (I will forever hang my hat on that Eli Manning thing, to the point where I'm mentioning it every year), as well as whiffing on a few things. Such is life. But here they are – my predictions for 2015:
I like the economic outlook for 2015. I'm not a skilled enough economist to know what affect the falling fuel prices will have on the overall economic structure, but I do know more money in everyone's pocket due to a declining expense can't be all bad.
In my industry (equipment financing), I predict a fairly strong year. As bank regulation increases, smaller businesses are increasingly looking to alternative lenders.
I think Obama will use his last two years on more social-type programs (we're already hearing rumblings of this), and I predict the other side won't like them one bit. I also predict people from both sides of the political spectrum will argue a lot (really going out on a limb here, aren't I?)
We got that last minute boost for Section 179 last year, then it dropped like a stone again for 2015. I predict another boost, and earlier than the 11th hour that was 2014.
Now let's do sports, which is my favorite:
Football – I whiffed on my Broncos pick last year, and they're already out. Let's go with the underdog Colts this year. I feel Lucky (get it?)
Baseball – I'm sticking with the Dodgers and Don Mattingly. C'mon Baseball Gods – get Donnie Baseball his ring!!
Basketball – I hit with the Spurs last year, and said it would be Tim Duncan's last hurrah. But he's still around, but I like the moves the Dallas Mavericks made. So that's my pick.
Hockey – I missed on my Olympic prediction last year. This year, let's go with the NY Rangers again.
And there you have it. I hope it all comes true (especially Section 179 – I would like to see that boosted nice and early this year.)