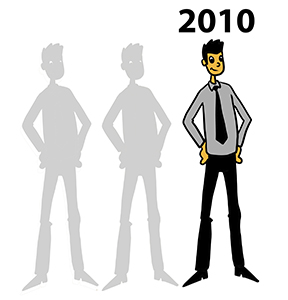 Now that 2010 (and a new decade) has begun, I've definitely noticed a stark difference from last year in regards to "the mood" of the business world (because I'm in the equipment financing business, I definitely have my finger on the pulse of small and medium sized businesses.)
Last year, there was a ton of fear – what was going to happen / where was the economy going / would banks fail / were we going to collapse? These questions were all on the minds of people, and let me tell you, in some cases, business ground to a complete halt. When you fear economic collapse, you're not spending anything.
Now, of course, nothing near economic collapse happened (it's almost laughable when you really think about it). In fact, we went through an old-fashioned recession. Something we've done before. But, and this is key to remember, this was the first real financial crisis of the internet age (I don't count the 2000 dot com bust, as we were far from fully wired then). This time, everyone knew everything that happened, and everyone had an opinion. The hype was out of control, and helped what appears to be a self-fulfilling prophecy.
Now it's a year later, and there aren't any more fears of collapse. Equipment financing and equipment leasing still aren't back to where they were pre-recession, but we've definitely seen the bottom. And it's thawing, ever so slowly. It seems the people who are still around are taking a deep breath and thinking "Looks like I survived… ok, what now?" And "what now" quickly turns into "let's continue on" (and continue on hopefully means a call to Fletch to lease equipment.)
It's interesting to see the change – the absolute dread of a year ago has vanished, and has been replaced by the resolve I mention above, and also a hefty dose of political arguing (who's to blame? Him? Her? The Right? The Left?) I guess my point here is to observe what I see as interesting, and to point out things are never as bad as the hype suggests.
If you're reading this, you're still here. What now?