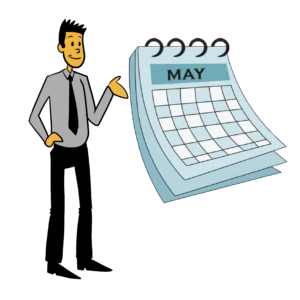 Continuing my series of "when is the best time for a business to finance equipment", let's take a look at the merry month of May.
You'll notice a recurring theme in many of these posts: I usually discuss fiscal quarters to some degree, will typically mention Section 179 and financing, as it plays into the "when should we finance" equation all year long (for different reasons), and I'll even talk about the weather a little (I think that matters). And for the month of May, I'm going to start with the weather.
May is a good month, weather wise. I say this not knowing where you live, and that's the point. For the entire country, May is probably the nicest month in terms of weather. For northern areas, spring is in full bloom; for the heartland, it's perfect, and for the south, it's hot, but still not quite oppressively hot. So if you wanted to pick the one month where the largest number of industries are humming, it would be May.
It's also right before the middle of the year, which is prime time for "this year's model" – the focus has not yet shifted to next year, and the kinks of new models have likely been ironed out. So for companies who want to buy the best currently available (without a new model coming out next month), May is prime time for that.
Section 179 really starts to work in your favor as well. If you finance equipment in May, you won't make your first payment until June (or perhaps even July). This means you will likely get more net dollars via the Section 179 deduction than you paid out this year. That's pretty sweet, especially since you scored a modern piece of equipment that you needed.   
I think every month is a good month to finance equipment, for different reasons, but if I had to pick one month to finance something new, I'd probably pick May (until next month, anyway!)