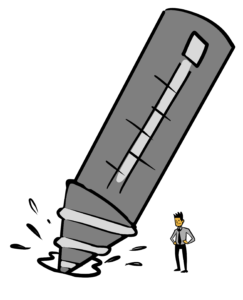 Let's dig deep for this post.
Ok, I couldn't resist… but drilling rig financing truly does matter, and not just because I could get away with a groin-inducing joke to lead off this piece. It matters because these machines are not only impressive to look at, but they also come in all kinds of sizes, shapes, and configurations – not to mention drill types. Plus, they aren't exactly "off the shelf" cheap.
When you think about a drilling rig, what do you picture? If you asked ten different people, you'd probably get ten different types. Even the professionals who work with these machines have different ideas of what constitutes a drill rig.
Financing these machines thus becomes a game of show and tell with your local bank. You say you want to finance a truck mounted hydraulic coil tubing drilling rig, and the bank says "huh, what is that?", because in their experience, they've only leased traditional drill rigs, like the older cable tool drills. That's why finding an equipment financing partner who knows all of the different drill types, and will happily write a lease for them, is paramount.
Up front cost is also an issue. While in almost all cases the machine is tied to profit, for certain companies that could take some time. We're talking the more exploratory nature of some industries – digging for petroleum or minerals or similar is not always something that has a quick payoff. Again, score another point for spreading the payments out over several years.
Lastly, let's bring Section 179 into the mix. Financing a major piece of equipment like a drilling rig, and then writing off the entire cost in year one (remember, Section 179 is $500k right now), is positively huge for many companies. It could mean the difference between a profitable year or not.
So in the end, drilling rig financing really matters. It's a matter of seeing the "hole" picture!