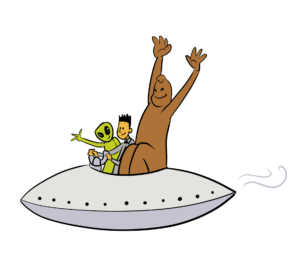 One thing that many people misunderstand about business lending (and this means banks as well as equipment finance companies) is we do not like high risk. Period.
So that said, there's this myth that lenders will lend businesses money based on a business plan. The myth more or less follows the thought that when you are in the early stages of a business, a solid business plan will impress a lender.
That's simply not true. In fact, your lender – whether it's a bank, a credit union, or your friendly equipment leasing company – probably won't even read it more than a few sentences. Because when it comes to lending money and financing equipment, nobody wants to hear what you are going to do. We care more about what you've done.
Why does this myth exist? It likely stems from things like the story of Steve Jobs in his garage, and other Silicon Valley legends. Add in the TV show "Shark Tank" and you have this feeling that if your idea is good enough, institutions will throw money at you. Not true.
The show "Shark Tank"… well, those aren't banks, but what's called "Angel Investors" (e.g.; wealthy people looking to invest in a good idea, in exchange for a piece of it).
Take it from Fletch – there's one key factor that really matters to almost all commercial lenders – "Time in Business". This is because if there's one consistent overall indicator of success or failure over the term of a loan, it's previous time in business. Once you pass that magic 3-5 year threshold, your chances of "making it" go up exponentially. This matters a great deal to any lender.
Of course, there are plenty of other factors looked at, primarily financials and the credit records of the company principals. But "time in business" is huge – probably the #1 factor in most cases. So that's definitely something to keep in mind when shopping for credit.