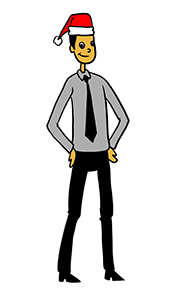 I have to do this one more time, and remind you that the Section 179 clock is about to expire on 2011. Once that second hand sweeps past Midnight on 12/31/2011, it's over, and we're then into the 2012 Section 179 season.
So here's what this means – if you want that fat Section 179 tax deduction to bolster your 2011 bottom line, you only have a few days left to buy your equipment and get it into service (that last part is key – you can't buy the equipment now, then let it sit while you indulge in holiday celebration, meaning to unpack it the first week of January. If you do that, it's too late.)
I've posted before about businesspeople frantically spending money on 12/31 to take advantage of Section 179, but I really don't advocate that. You should do it a little earlier. Like right after you are finished with this post.  This gives you enough time to buy your equipment, and put it into service. It also gives you enough time to arrange for equipment financing or an equipment lease (which, as readers of this blog know, combined with Section 179 is a powerful profit-booster.)
Section 179 is big enough to make a difference for 2011's year-end numbers, too. With the maximum deduction at a very generous $500,000 (that's 500k, or a half mil, if you prefer slang), many companies can turn red ink to black by using this deduction. And with the economy hopefully gaining a little steam (reports of holiday sales are indeed encouraging), making 2011 better can be a very attractive option in a big-picture sense. Also, while Section 179 seems to be set for 2012, things could always change (it is an election year, after all). So making 2011 better (striking while the iron is hot) is probably a good move.
Anyway, I'm off for some holiday cheer. I hope you have a great holiday season, and we'll talk again in 2012.