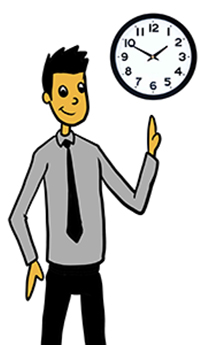 I know I talk about Section 179 quite often, but now it takes on a little more significance, because the year is almost over.
If you've read this blog at all over the years, you know Section 179 is a year to year thing, ending on midnight, December 31. When that clock strikes 12, your equipment must have been not only bought, but put into use. Hey, some people ring in the New Year with Cheer… others are setting up office equipment at 11:55pm to get a fat 2011 deduction.
But if you act now (goodness, now I sound like a bad late-night TV commercial), you can have your cake and eat it too. Get your Section 179 eligible equipment / vehicles / software NOW – before the year runs out – and you'll be able to attend that New Year's party without guilt, secure that your 2011 is the best that it can be in terms of tax savings and deductions.
The great thing about Section 179 is you really don't need to do anything special, save buy equipment that makes your business better. Most companies would have done exactly that anyway. For example, would new computers and software make things easier? Then buy them now, and take advantage of the tax savings for the 2011 fiscal year. How about vehicles, or office machines, or a new <insert whatever equipment you use to make your product / produce income>? You can get them all, and save big on your taxes.
And, of course, unless you've been under a rock, you know that Section 179 has been made bigger for 2011, making it even more important that you beat the deadline. I have the numbers listed out in a previous post (I could think of worse ways to spend an afternoon than going through a few Fletch posts), but to recap in a nutshell, the maximum deduction is now a full $500,000, and the total amount of equipment bought is up to two million dollars. This means thousands of companies can really impact their 2011 tax bill by taking advantage of Section 179. Throw in a little equipment financing, and you'll be dancing on the tables come 12/31! Maybe I'll join you (and then again, maybe not!)