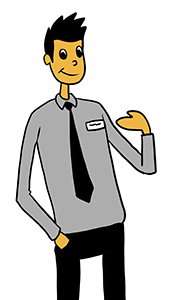 We're right in the thick of the holiday season. And here at equipment finance central (that's what my wife calls my office, anyway), we're definitely seeing the surge of businesses taking advantage of Section 179. I spoke earlier about how businesspeople try to get that last purchase in before the New Year, and 2009 is no exception (only I'm not wearing a nametag anymore… I'm thankful for that, too – you have no idea how many people think "Fletch, can you fetch me X" is funny. But I digress…)
So let me ask you, faithful reader – what is on your list in regards to Holiday Shopping for your business? Because I'm going to remind you again that Section 179 is only good until 11:59pm, 12/31. After that… well, who knows? Maybe Santa/Obama will let us have another year (truth be told, it's likely), but then again, maybe not.
I know I talk about Section 179 a lot, but this is the time of year it really heats up. Especially for us equipment financing guys. In fact, from prettymuch the first day of autumn until I say "Happy New Year", I eat, drink, and breathe Section 179 (as if you couldn't tell by this blog.) I spend my day going through new equipment leases and equipment financing applications, I deal with renewing equipment leases, I talk to people about financing used equipment, I….
Sigh… see what I mean? I really came here to write a pre-holiday post, and I end up talking about business. I mean, I ended up mentioning Section 179 in the second sentence!!! It's a good thing I like my job. It's also a good thing that my wife puts up with me (let's just say I was thinking about the ship financing deck chairs on our cruise.)
Maybe I should concentrate on my Christmas list or something like that.