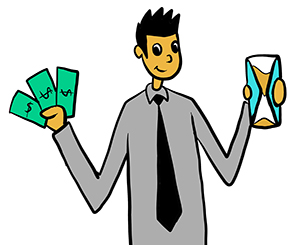 There were definitely some high-level negotiations in the Fletcher household this week.
My wife and I were discussing the economic stimulus act of 2008, or, more specifically, what we were going to spend our checks on. We're getting $600 each, but had very different viewpoints.
My wife wants to do something smart (yet boring), like pay bills, or prepay heating oil for next year, or (*gasp*), put them in the bank.
I, on the other hand, feeling the patriotic sense of duty that $600 government checks seem to instill in me, had plans to help the economy by blowing it on junk (her words, not mine.)
Maybe my attitude has something to do with my work. As you know, I work with equipment financing, interest rates, payments, etc every single day. And while that's exceedingly exciting (right?), it pales to the excitement one feels when walking into an electronics store with 600 bucks of free money in your hand. Or walking into the hardware store. Or looking at a new gas grill, which, ironically, will come to $467.75 after taxes, leaving just enough to buy a new DVD player and 4 movies if I hit the buy three get one free day (you know, now that I think about it, it's almost as if George Bush planned it that way.)
Hence, my argument boiled down to all I talk about is interest rates and smart financial decisions all day. So let's talk BTU's and car chases instead.
I admit it's not a very strong argument, so I spiced it up with and, I'll cook three times a week all summer on the new grill. That seemed to do the trick.
So afterwards, my wife says ok, and now I get to spend mine on whatever I want (which means clothes.) Ideally, this was my plan all along, but since I had to give a little bit by agreeing to cook, I insisted she do the same. And what was my caveat? Well, that's a bit private, but let's just say the clothes shopping trip will include a short stop in a special sleepwear store with the initials VS J
Gotta love married life. And gotta love the economic stimulus act of 2008, too. Good stuff.