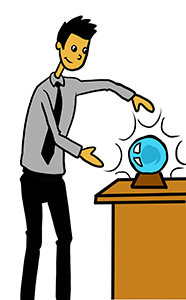 Ok, it's a New Year – 2011 to be exact.
As someone who grew up in the 80's, it's really sobering to think of what year it is. Back then, the "Year 2000" seemed soooo far away. Yet, we're now in the second decade of the millennium. Time certainly marches on.
But this isn't a reflective post – instead, I'll repeat what I did last year and give you a few predictions:
Section 179 was given a nice boost for 2011, meaning we probably won't hear much about it from the government. Which is fine – leave it alone (I'll continue to trumpet Section 179 here, as I really like it, and think it's a great business incentive.)
The Falcons will win the Super Bowl. The Red Sox will win the World Series, the Orlando Magic will win the NBA title, and I have no idea who will win the Stanley Cup, because I do not follow hockey that much (can I say the Red Wings here?)
We'll see some bones thrown to businesses from congress, because really, we need our own stimulus. Perhaps the ITC (Investment Tax Credit) will make a comeback. That, combined with Section 179 and a solid equipment financing partner (ahem) could mean 2011 is a better year than you are currently foreseeing.
However, in the end, I feel 2011 will continue the "slightly rising stagnation" that was 2010, and by the third quarter, we'll be pretty complacent in what are slightly raised numbers. In other words, we won't see many huge dips or spikes in economic activity. They'll call it a recovery, but really, it's just the new normal.
On a personal note, Mr. and Mrs. Fletch will enjoy their new pool quite a bit.
Happy New Year, everyone!!