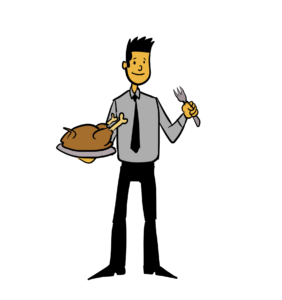 We're 11 months into our "which is the best month to finance equipment" series, which means we're into November. And yes, it's a great time to finance equipment. I'll give you one guess as to why (and it has nothing to do with Thanksgiving, although Turkey, Potatoes, and Gravy never hurt anything).
Yup, it's our old friend Section 179. It's a great program no matter what month you finance, but wow, does it take on extra significance now. In fact, it can literally make your year.
If you read here regularly, you already know the particulars, but let's talk about them anyway: If you finance equipment (leasing too) here in November, you can write off the entire purchase price for this year. Depending on the price of the equipment, that can mean a significant dent in your taxes – you will keep more of your money, which is reflected in your bottom line numbers for the year.
But here's the real beauty in this – as stated, the numbers will make a big difference for this year, but you won't start paying for the equipment until next year. That's nice.
Plus, you get to start next year with new (or new to you) equipment – there are worse ways you can start a year.
There are also plenty of bargains this time of year, as companies look to end the current year on a high note, clear out older inventory, or maybe just succumbed to a post-Thanksgiving food coma. Whatever the reason, they're out there. And equipment financing companies are there with financing.
Which reminds me of a little known factoid: When the Pilgrims came to the new land and celebrated the first Thanksgiving with the Native Americans, it was actually the first equipment financing deal. See, the Pilgrims needed food and local farming knowledge, and the Native Americans desired the metal tools and weapons the Pilgrims had. So they traded food (i.e. currency) for the hard goods. And I'm sure there were some deferred payments and tax breaks and…
Ok, I'm getting a little carried away here, and my history teacher might argue with me on the specifics of that one, but can dream, right?