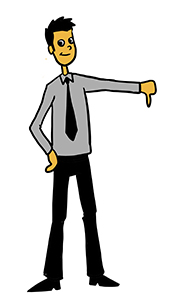 Here we go with part two of my periodic "what's hot and not hot" in equipment financing (for the record, Mrs. Fletch says I'm still in the hot part, thank goodness.)
The biggest "not hot" in terms of industries are those negatively affected by technology. And the very first one that comes to mind here is the printing industry.
Printing is still with us, and it's probably never going to completely go away, but wow, the web has really taken its toll on printing in general. I know a few local offset printers that are now out of business (or turned more into graphical design services), all because of the web. Think about it – a company can now have its entire catalog online, and send e-mail with a link to it. No more expensive printing and mailing costs. Plus, the virtual catalog can easily be updated. If you want to update a print catalog, you have to print an entire new one.
Another industry is the office furniture industry (FF&E, which stands for Furniture, Fixtures, and Equipment). This is likely due to two related reasons: first, with the workforce becoming more virtual, companies are seeing less of a need for desks and cubicle dividers and such. Second, some companies may be selling a lot of that equipment off, creating a robust (and far cheaper) second hand market.
Lastly, a surprising (well, maybe not so surprising) industry losing steam is Telecom / Phone Systems. This is due to a few factors. Like I mentioned earlier, more companies are becoming virtual, which means fewer desks, which means fewer phones. Plus, with cloud-based PBX systems being paid for as a monthly software-as-a-service expense, the need for traditional phone systems has become almost nil.
So there you have it – three industries on the rise in my previous post, and here, three industries on the decline. At least through my equipment-financing eyes.