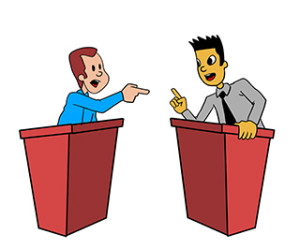 I had a dream the other night that I was in one of the Republican debates, and was asked about the economy. Here's how it went:
Moderator: Mr. Fletch, thank you for being here. Not only do you have better hair than Mr. Trump, but you say you have a better idea to get the economy moving again. Can you outline it?
Me: Certainly. First, let me mention that while I admire Mr. Trump's accomplishments, I don't think changing the name of the capital to Trumptown USA is a good one, no matter how great it looks in neon lights.
No, my plan is simpler, and aimed at real Americans creating real American jobs. I'm talking about small and medium businesses, which are the lifeblood of America. Now, I do realize that every candidate says this every four years, but I'm actually going to mention a plan to get small and medium businesses moving again. And I'm going to do that by raising the Section 179 limits.
Moderator: Wait, you said Section one seventy something? I never heard of that before.
Me: That doesn't surprise me. Candidates never seem to talk about Section 179. But it's only the best tool the government has to stimulate small and medium businesses.
Trump: I tried this Section 179 malarkey. It doesn't work. I tried, and…
Me: Well, it's not for conglomerates. Section 179 is for small and medium businesses who want to improve. It's a tax deduction that lets a business write off the full value of qualifying equipment, new or used. Right now, the limit is low, and I propose we raise it back to $500,000. This means, under my plan, a business can purchase up to $500,000 worth of equipment, and write off the full value this tax year. Of course, to keep this a small and medium business deduction, the write off will start to shrink once 2 million dollars' worth of equipment have been purchased. But most small and medium businesses will never reach that threshold – that's the beauty of this tax deduction – it's truly for small and medium businesses.
Trump: Wait a minute – you're saying…
—-
And then my lovely wife woke me up just as it was getting good.
I'll never run for president, of course, but I do wish a candidate would embrace Section 179 and promote it. It really is the way to get businesses moving again.