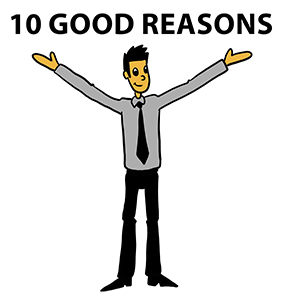 I get asked all the time about an equipment financing company (like mine) vs. the bank, and which is better. Of course, I think the equipment financing company wins hands down, but aside from my belief, I came up with ten solid reasons why an equipment financing company beats the bank if you are looking to finance or lease equipment.
I'll list all ten in this post, and then go over these one by one in future posts – this gives me something fun to post about in between all my Section 179 cheerleading, and also gives you a reason to keep seeing Fletch.
To start, I want to make people aware of equipment financing companies, because many don't know they exist. Usually, when a company needs money, they THINK they have three options – the bank, rich Uncle Chester, and Knuckles McNulty, who hangs around the pool hall. And of those, the bank is the most attractive.
But there's a fourth option, and it's the best of the bunch. An equipment financing / equipment leasing company exists solely to lend businesses money to acquire equipment. We're better than the bank, and our offices are decidedly nicer than the pool hall (in fact, you can do everything online.)
And here are the ten reasons an equipment financing company is your best choice:
SIMPLICITY – We're easier to work with than the bank.
UPFRONT COST – Our upfront cost is lower.
COLLATERAL – Our collateral requirements are less restrictive.
COMPENSATING BALANCE – We're not going to ask you to keep a big bank balance.
FINANCIAL STATEMENT COVENANTS – We won't pry into your ongoing finances.
PERSERVING CREDIT AVAILABILITY – Using an equipment leasing company allows you to still use the bank later.
HIDDEN CHARGES – there are none.
ACCOUNTINGANDTAX – Your accountant will love us.
RATE ADJUSTMENT – We liked fixed rates. The bank doesn't.
RE-QUALIFY EVERY YEAR – We won't ask you to prove your financial worth year after year.
I'll go over these in more detail over the coming weeks / months. Look for them.