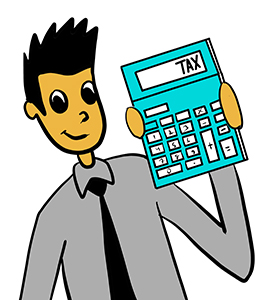 Just like someone who can't resist snooping Holiday gifts, there are millions of people who want to know as soon as possible how much they will get back on their taxes (or, how much they will owe, which is the IRS equivalent to excitedly opening your biggest, shiniest present; only to find it held a grow- from-home pickle kit! Gee, thanks…)
In all seriousness, though, for tax purposes, online tax calculators are very useful. You can anticipate taxes owed, taxes paid, or any number of different scenarios. And it doesn't stop with taxes. There are online calculators for mortgage payments, car payments, lease payment amounts, etc. These online calculators can be located by simply searching the Internet using any common search engine. Some (most, actually) are free and some come with a small fee, but all are useful. For now, we'll just stick with taxes though.
Estimating Your Taxes
If you have ever wondered during the year if you are having enough tax withheld from your paycheck, you can access an online tax calculator to check. If, after checking, it appears that you may owe taxes at your current level of withholding, you can submit to your employer a new W-4 form that makes the necessary changes on your withholding. This can save you a lot of grief at tax time.
If you operate a business, you can use an online tax calculator to make sure you are setting aside enough from each draw / pay period to guarantee you are covered at tax time.
Using an online tax calculator is simple and easy. First, you will be asked to enter some simple personal information (like marital status, filing jointly, dependents, etc.) Then you enter your income, and it will tell you approximately how much tax you will owe.
Of course, using a tax calculator is simply a tool for estimation, and it doesn't replace the need for the tax chart or, in many cases, the need for an accountant. Trust me here, the IRS won't accept "but the tax calculator showed a different amount" at tax time.
That said, preparing for your income tax well in advance by using an online tax calculator is a smart move, especially if you think you might owe taxes at the end of the tax year. It is much more comforting to know in advance and plan ahead than to be hit with a large tax bill on April 15th (in which case, that pickle kit could come in handy.)