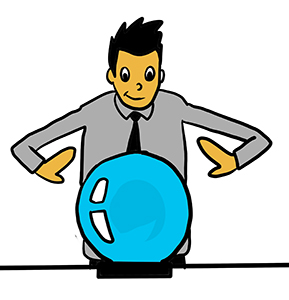 Here we are in 2018, and you know what that means: another edition of Fletch Predicts!
I always do sports, and I was on a roll for a while. I predicted basketball and baseball right in 2016, and then I nailed the 2017 Superbowl – three in a row! Things were really looking up, but then I crashed back to earth, and haven't hit on anything since. But that never deterred me – let's get to it for 2018.
Starting with the Superbowl – there are a few teams that look strong: you have the Patriots, who are always there. The Eagles are surprising, and they may have an old NY Giant vibe, when a backup quarterback named Jeff Hostetler led them to a Superbowl win against the Bills in 1989. Can Nick Foles do the same for Phili?
But I'm going with an unconventional pick. I like the Minnesota Vikings to become the first team to play the Superbowl on their home field. They will play the Pittsburgh Steelers in a rematch of the first Superbowl a young Fletch watched start to finish! And this time, the Vikings will win!
Hockey – to me, that's the hardest sport to predict, because it all depends on momentum and the hot goaltender. Right now, the Tampa Bay Lightning look very strong. Let's go with them.
Basketball… I like the Houston Rockets to make a big leap, and grab the title. They will play the Celtics in the finals. LeBron finally gets to rest in late spring.
Baseball – all NY Yankees, all the time. They already had a modern day Murder's Row brewing with Aaron Judge and company, and adding Giancarlo Stanton to the mix may just set a record for home runs in a season. It should be fun if you're a Yankees fan, and, of course, for you Yankee haters, there's more to hate!
Now that sports are done, let's go into the economy: As you know, H.R.1, The Tax Cuts and Jobs Act, recently passed, and while the full effects on everyone won't be known for a while, I like it for businesses, and I do see a steady economy for the next year. The business climate is quite good, and confidence is high, so that always helps. 2018 should be a good year for most industries and companies. And Section 179 will be there all year, sitting pretty at $1,000,000, thanks to a nice bump from the above-mentioned bill.
I'm not sure what to make of the Bitcoin phenomena, and I can't pretend to even fully understand it, but it and other Cryptocurrencies deserve watching. This is on my "need to know" list for 2018. Put it on yours too.
Last year, I thought Virtual Reality would make big strides, and gaming companies like Microsoft and Sony proved that prediction accurate by embracing that technology in a big way. I also thought 3D printing would be more mainstream, but it hasn't quite caught on as much yet. But it will – it's inevitable.
So there you have it – some predictions for 2018. I hope you had a great New Year, and are ready to hit the ground running!