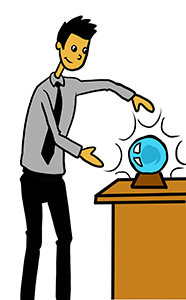 Welcome to 2017! I hope you had a great New Year, and I also hope you are ready for 2017's edition of "Fletch Predicts".
First off, if you read last year's, you know where I'm starting – your equipment financing and Section 179 maven correctly predicted both the Cavs and the Cubs winning their respective championships. This was a monumental call, and had me thinking of giving all this up and running out to Vegas. Then Mrs. Fletch intervened, and that was that.
So let's start with sports:
For the NFL, I am going with the New England Patriots. One more title for Tom Brady and Bill Belichick. And just for fun, let's say they get some revenge and beat the NY Giants.
Baseball… Cubs legend Ernie Banks said "let's play two". Who is Fletch to argue? The Cubbies defend their title.
Basketball – I'm going with the 2017 double dip and picking the Cavs again. Although one day, LeBron is going to want to go home when the season ends.
Hockey – I've confessed to not following Hockey as close as the others, but I'm paying a bit more attention this year, and I like this New York Rangers goaltending duo. So let's pick them.
Ok, onto politics and economy. I'm not touching what I think Donald Trump will do, because nobody can really predict that. But I do think the recent stock market run will continue – businesses will be happy with even the perception of less regulation, so I think we're in for a robust 2017.
I see two technologies really making strides this year – virtual reality and 3D printing. They've both been around for a while, but this is the year I think they both make more noise and really crack into the mainstream. Probably VR a little faster than 3D printing – I see VR being the hot gift in 2017 – 3D printing will have to come down in pricing a bit more, but it's coming as well. Remember, a Plasma TV used to be $20k. Now you get one seemingly just for showing up to a Black Friday sale.
Notice something? No Section 179 prediction. No need – it's staying at $500,000. Make sure you take advantage of it this year. 
Ok, that's what I have for 2017 predictions. Place those bets, folks! (legally, of course!)