Let's meet Chuck.
Chuck owns a construction company, and over the last 17 years, has financed equipment four times with Crest Capital.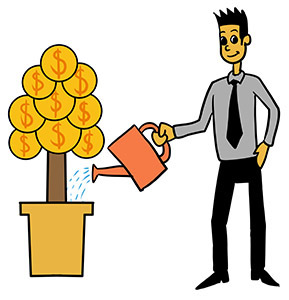 Chuck's first deal was in 2005. He was, I think, a three-person company at the time. He and two friends got together a few years prior doing contracting work, and also subbed out to some larger contractors doing major projects.
One day, they saw an opportunity on a construction site when the general contractor was complaining out loud about his "heavy equipment guy" becoming unreliable. Chuck overheard that, and had an idea. He had a line on a few pieces of "used but good" heavy equipment, and that's when we met. They financed a backhoe, and… I forget what else. But they were on their way.
Over the years, they came back to us three more times. And the interesting thing to me is how the company and revenues were steadily larger each time. The second time he came to us, Chuck had seven guys, then fifteen, and now he has three crews of six or seven guys, plus some admin staff. He's a major builder across a four or five county area.
Each time he came to us, the equipment he financed helped spur his growth. In fact, you could say he hit a wall each time and said "I need more equipment if I'm going to handle the demand". Or he saw an opportunity – a way to add to his services – and took a leap.
I'm not going to pretend that the equipment financed was the main reason for growth – I think Chuck and his partners' business smarts had a little something to do with it too. But the financed heavy equipment sure helped, especially way back in 2007.
Right now, there are people running steady small businesses. And right now, many of them are right on the cusp of growth – someone's normal supplier is becoming unreliable, or can't handle the demand, or whatever. They are one overheard conversation away from saying "hey, WE could fill that need if only we had the equipment."
Hear about any needs that require filling? If you do, give us a call – we'd love to help.