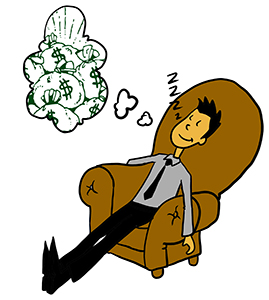 So while the rest of you were reveling it up for the New Year, yours truly was sick in bed with the flu. And I mean siiiiiiiick…. That type of sickness where just looking at things is exhausting. I came down with it Sunday, 12/30, and the entire New Year thing was a blur.
In fact, I had this weird fever-induced vision…
As I lay there moaning, I had a vision of an Angel in White (actually, it turned out to be Mrs. Fletch in her bathrobe, but go with me here) coming to give me some uplifting news. Since I was clearly dying, was she coming to tell me that my immortal soul was about to enter into eternal happiness? No, she wasn't. In fact, here's the message, word for word:
"You're not dying, you big baby. You have the flu, and you'll be fine in a few days. Oh, and they passed the fiscal cliff thing last night, and Section 179 was mentioned. You might want to check it out."
Ok, so I didn't quite marry Florence Nightingale. But she still knows what turns my key. Section 179 was included in the Fiscal Cliff Bill? Wow!
So I had a cup of tea, and shambled on over to my computer and did some reading. And indeed, my favorite government program is back – Section 179 lives again!! And it lives BIG!!! Here's the deal:
Section 179 has been placed back to 2011 levels. And it's retroactive through 2012. Basically, Section 179 was $500,000 for 2011; $125,000 for 2012; and $25,000 for 2013. What the Fiscal Cliff Bill has done is make it $500,000 for all three years.
This is excellent news for businesses in 2013 – it means THIS YEAR is *the* year to invest in your business. You know, with 100% certainty, that there's a fat $500,000 deduction for investing in equipment. I have a feeling my equipment financing office is going to be busy the next few weeks (I need to get better and get in there). This is also great news for those of you who invested in 2012, and were going to get the (at the time) maximum of $125,000 – you may have more money coming to you.
This is great news, and really perked me up. Expect me to talk a lot about this in the coming year. Section 179 is back, and it's better than ever!!!
Fletch Predicts:
I always do a few sports predictions in my New Year's posts, so here we go: I like the Atlanta Falcons to win the Super Bowl, although the rookie quarterbacks in the tournament may have something to say about that. But it's Atlanta's year. I like the New York Knicks in basketball. Hockey…. Is there hockey anymore? We'll leave hockey alone. And baseball… I'm going to go with the LA Dodgers, with Donnie Baseball (one of my favorite players as a kid) finally getting a ring.