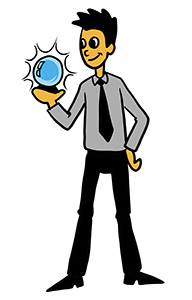 As my regular readers know, I always do a prediction post early in the New Year – and today's the day for 2014.
In looking back over my old posts, I have been pretty good at this. I've predicted increases in Section 179, and I not only predicted the 2012 super bowl, but also said Eli Manning will throw another crazy pass in a Giant's win. Wow, talk about a great prediction – I'm going to milk that one forever (we can forget my 2013 sports predictions – I whiffed on all of those.)
But it's now 2014, and the slate is clear. Time for some predictions:
The economy is going to remain pretty much like it has the last year or so. We've fallen into a "new normal", and what we have now is what we have. Don't look for any insane growth or any real dips – we've settled into a groove, and we're going to stay there for the foreseeable future. So if you are reading this and still afloat business-wise, that's good news. Because more of the same is coming.
Section 179 has reverted back to its old low limits. This means a $25,000 deduction. I predict that is not going to stay – there is almost no chance this popular tax code doesn't get some kind of boost. So take it from Fletch – buy new (or new to you) equipment with confidence. You'll get your deduction.
And now that I've sufficiently satisfied the "business" part of this post, let's get to sports, which you are all waiting for.
Football – I like the Broncos to win it all, and get Peyton Manning that second ring. He's been unbelievable this year, and it seems like the stars are all lining up. That said, I will say "look out" for the Chargers as well. The "hot" team has fared well in recent years, and the Chargers are peaking at the perfect time. But I still think the Broncos win.
Baseball – I am sticking with the Dodgers and Donnie Baseball. If anyone deserves a World Series ring, it's that guy.
Basketball – San Antonio gets revenge on the Heat this year. Tim Duncan gets one more championship before riding off into the sunset.
Hockey – Hockey is so tough, as it really lends itself to the "hot team" (or "hot goalie") theory more than any other sport. But I will predict a Russian gold medal in the Winter Olympics (and I would LOVE to see them wear those old CCCP jerseys!)
And there you have it – Fletch predicts for 2014.