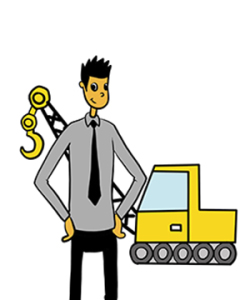 It's no secret that the economy has been strong for a few years now. Being in the equipment financing industry, I don't need to watch the news or read the Wall Street Journal to know this – I can get a good gauge on the economy by how often our phones ring. And they've been ringing a lot over the last few years, because businesses are spending.
Usually I do a "hot and not" post every year, and this year, I reported that just about everything was hot. But as I looked at some reports the other day, two things jumped out at me. The first is that construction equipment financing was robust. This usually happens in a good economy, as that's when things get built.
But what really caught my eye was the fact that pre-owned construction equipment took a solid jump in 2018. It seems that there are plenty of construction firms leasing used construction equipment like backhoes, dump trucks, bulldozers, and other heavy equipment. Financing used construction machinery was always something firms did to save money, but it took such a jump recently that I asked myself "why?" I can guess at a few reasons:
There are Plenty of Good Pieces Out There. In "good times", companies are quicker to replace machinery with newer, better models. This leaves a larger than usual inventory of gently used construction equipment.
Leasing / Financing Rates are Low. Rates are still low, despite a few small increases. Most experts feel more increases are imminent, so jump on this.
Machines Last Longer Today. There was a time when companies would shy away from taking out monthly payments on a used backhoe (for example), but today, they are built so well that even a used machine will outlive the payment term.
Financing used construction equipment makes sense for many construction firms. The numbers bear this out, and it looks to continue well into 2019.