It's been a few years since I discussed financing CNC machines. But it's a good topic to revisit because CNC machine financing continues to be a very strong part of the equipment financing industry.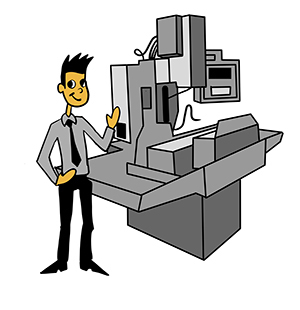 The reasons for the popularity are pretty easy to understand: CNC machines are incredibly useful to all manner of industries, and as technology increases, they become more affordable to businesses. In fact, our small and medium business customers finance CNC machines regularly.

For those who don't know, the "CNC" stands for computer numerical control. Basically, a CNC machine handles tasks via CAD software that used to be done manually. Cutting, drilling, pressing, shaping… these tasks can now be handled by CNC machines with astonishing speed and precision. So companies can now invest in CNC lathes, drills, cutting tools, routers, and more. I've even seen small consumer CNC routers that are perfect for a home garage or amateur/hobby woodshop. Neat.

With the rise in 3D printing, I've seen some publications call 3D printers CNC machines. But then I also see videos like this one showing the differences (note – this is also a great video for a basic primer on CNC machines). The stated difference is CNC machines subtract material, while 3D printers add it. That said, the market will eventually bear this out – maybe someday everyone will consider 3D Printers CNC machines (and Crest Capital will still finance it all!) 

On that note, we're very proud that we've been financing CNC machines since our beginning in 1989. We recognized right away how much businesses needed these, and saw the potential for small business CNC machine financing, especially as the technology increased and the CNC machines got more compact in size and the price became more affordable.

Along the way, we've also become experts on these machines, and our reps are well-schooled in how they work, and what type of CNC machine leasing or financing makes the most sense. So whether our customers are buying their first CNC machine (which is always an exciting step) or buying their 10th, we are honored to help make it happen.