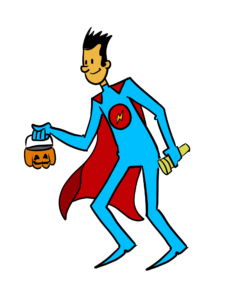 Trick or Treat, everyone – it's October. And it's a great month to finance equipment.
(Ok, you know I have 12 answers to the "what is the best month to finance equipment" question, but indulge me, because it all makes sense. Thanks.)
Anyway, October is a fantastic time to finance or lease equipment. Here's why:
Helloooo 4th Quarter

– Yup, it's the 4

th

quarter. You now know (or strongly suspect) how your year is going to end. And for many of us, it's going to end on a positive note. So given that, if not now for new equipment, then when? And if your year wasn't great, if you finance equipment now, you can likely get a "no payments until 2018" deal, meaning maybe you can turn things around with some new gear (and get a jump on next year.)

Section 179 is Powerful

– I mentioned "no payments until…". Now, imagine how great it is when you combine that with taking a full Section 179 deduction THIS year. No payments, and a full deduction. That's pretty sweet, no matter how you look at it. Yes indeed, Section 179 gets very interesting this time of year, doesn't it?

There's Great Stuff Out There

– Nobody wants 2017 models

now

, right? Except smart businesses who know they can get great deals on them. If you've had your eye on anything that has a "model year", get cracking and look for deals on 2017's. They are out there, and sellers are getting desperate to move them.

Halloween is This Month!

– This has nothing to do with business (unless you make costumes or candy, of course). But Halloween is a great time of the year – it's the official kickoff to the holiday season (more on that next month.)
So yes, October is a great time to finance equipment. It's not a trick – go treat yourself!